Astronics Advanced Electronic Systems (AES)
Astronics Advanced Electronic Systems (AES) in Kirkland, Washington is an industry leading manufacturer of aircraft electrical power systems, including power generation and distribution.
The company's markets include commercial transport aircraft such as Boeing and Airbus, business aircraft, rotorcraft, and military platforms.  Astronics AES is the world's leading manufacturer of in-seat power systems for laptops and other electronic devices with the EmPower® product line.
Astronics AES is also the world's leading innovator of electronic circuit breakers and power distribution systems for business aircraft with the CorePower® product line.  Astronics AES revenues have grown significantly over the last 10 years.
The company now employs over 500 employees, and they have won awards as a best place to work for 11 years consecutively.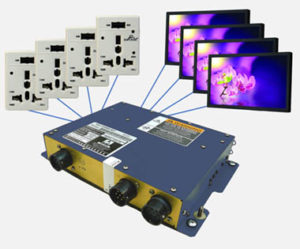 EmPower® IFE Integrated Seat Power Systems are the proven choice for large and small In-Flight Entertainment (IFE) system manufacturers.  This integrated solution provides the capabilities and features of Astronics' EmPower® In-Seat Power System for passenger use (AC and/or USB) and adds additional power for seat-powered IFE equipment in a single low-profile seat box.